Summer leagues are a fun night out to relieve stress and get outside. Just like you, we want to keep playing but we need your help! Our "Weekly Three" tips will remind everyone how they can help stay healthy, safe, & socially distanced.


Week of Aug 24
1) Check Playoff Schedules in Advance
Now that we've started playoffs, please make sure to check your schedule in advance. You can find your volleyball playoff schedules and bags playoff schedules on our website (playoff schedules are NOT on the app). Playoff schedules will also be posted each night on the bulletin board but we want to avoid congregating in the entrance. If another player is checking the schedules, please wait your turn. TIP: take a picture of the bracket (or download the PDF from the website) so you can reference future game times later.

2) Help Us Restock
If soap dispensers or paper towels are out of stock or low in bathrooms, please let our staff know! We do our best to check these nightly but sometimes they run low before we check. Find a manager (Jake or Susie) or let your servers/bartenders know.

3) Wash After Water

With the water dispensers, please use the nearby sanitizer before taking water AND after filling your cup to avoid spreading germs. After using the hoses to rinse the sand off your feet, please use the nearby hand sanitizer too.
---
Week of Aug 17
1) Playoff Game Times
Volleyball playoffs start next week and this year will be slightly different. Since we spaced out game times this season, the playoffs are also spaced out with games at 6pm, 7pm, 8pm, 9pm (instead of 5 games at 50 minutes). Games will probably be ahead of schedule (especially if a 3rd match isn't needed). But if both teams are here early, teams can play earlier than scheduled. Find your volleyball playoff schedules on our website. Monday & Tuesday players have been emailed playoff info. Wednesday teams will be emailed today and Thursday will be emailed Friday (we are entering the last regular-season games' scores to update the standings).
2) Bring Backups
Phone, wallet, keys, mask. It's the #NewNorm checklist when leaving the house. But make sure to add an extra mask and/or an extra hand sanitizer to that list - keep them in your bag/car/purse/pocket. We provide these and do our best to keep them restocked but they sometimes run out, masks break, or you need to quickly wash your hands before you play. Be extra.

3) League Feedback

This season was a lot different but we still need your feedback. We're grateful for your patience and feedback during the season as we continued to learn and adapt the safety precautions. Next year can only get better and we still need your feedback to make that happen. All registered players have been emailed the league surveys - please take a couple of minutes to share your thoughts on ideas so we can continue to improve our summer leagues!


---
Week of Aug 10
1) Plan for Playoffs
Stay healthy so you can compete in playoffs! Volleyball league playoffs are 4 weeks, starting the week of August 24. The championship games will be held the week of September 14-17 for volleyball, bocce ball, and bean bags. Bean bag league playoffs are only two weeks, starting August 31 (for Monday night bags) and September 8 (for Tuesday night bags). Bocce ball playoffs are also only two weeks, starting the week of September 8-10. After the regular-season games, we will tally up scores and update your schedule with the playoff games. Spikeball, high school volleyball, and college volleyball leagues playoffs are only one night this Sun, Aug 16 and Mon, Aug 17.
2) Ready for Rosters
If possible, please stick to your teammates and regular subs for playoffs. We will need your roster finalized before playoffs start. Check out our blog to learn how to invite players or create your team roster.

3) Opposite Sides When Switching Sides

When your team is switching sides after a volleyball match, stay on the opposite side of the court (one team near the ref stand and one on the other side of the net). No high-fives as your switching sides and keep your distance.
---
Week of Aug 3
1) Safe Celebrations
Like a lot of things in 2020, Minnesota Nice is canceled this year. Please don't high-five or give "knucks" during or after games. Some teams don't feel comfortable and we want to avoid spreading germs. Air high-fives strongly encouraged.
2) Distanced Indoor Seating
Please keep your distance when seated inside the Lodge. If a team is seated at a table, leave a table between. There are signs on the tables to help remember.

3) BYOB. Bring Your Own Bags

If you have your own regulation bean bags, you can bring them for leagues (or tournaments) to play. A league coordinator or ref will need to verify but then toss away.
---
Week of July 27
1) Use the 27 Sanitizer Stations
We have 18 sanitizer stations outside and 9 inside at Skyline. Find 'em and use 'em! On those HOT days when you need water or are hosing the sand off your feet, use the sanitizer before and after! Before playing and between games, use the sanitizer. After the bathroom, use the sanitizer (obviously!). Let's keep germs away.
2) No Fevers Allowed.

Check your temperature before you drive here (don't waste your gas to get here and drive back home). If you have a fever or are feeling any symptoms, PLEASE stay home and find a sub for a week or two. Take one (week) for the team(s)!

3) Contact us to Forfeit

If your full team can't make it (and you can't find subs), the best way to let us know is by calling our League Coordinator Will (218-520-0538). If you know farther in advance, you can email Will (wvogel@skylinelanes.com). It's very frustrating to show up and not play, especially for those players who drive a long distance. To forfeit, PLEASE call Will at 218-520-0538 or email wvogel@skylinelanes.com in advance. Will can let the other team know before they show up. CAPTAINS: read this quick blog post about forfeits. It is the captains' responsibility to let us know in advance if/when your team won't be here!
---
Week of July 20
1) Masks Officially Required
To reiterate the new state requirements, masks are officially required inside. When entering, please make sure to bring and wear your mask. If you forgot your mask, our temperature takers/greeters have some disposable masks available to purchase. While masked up, get your temperature taken and use the hand sanitizer at the entrance. If you are outside, masks are not required; however, are strongly encouraged, especially where social distancing is difficult to maintain. Also, if you are sick or have any symptoms, please continue to stay home.
2) Walking Around

When walking around, masks are required inside. When eating, drinking, and playing, masks can be removed. If you need to use the bathroom, please put your mask on to get inside. There are also two sets of outdoor bathrooms available - one near Court I (volleyball) and another set near the back bags/bocce courts (Court 3).


3) League Weather Policy

Since the weather can change so quickly, all cancellations or delays are determined on game day at 5pm. If you don't hear from us at 5pm, games will be played as originally scheduled. We will play in the rain but will delay, then cancel for lightning. All cancellations and delays will be emailed to the captains but also posted in our "Skyline Outdoor Leagues" Facebook group and Facebook page. If players have opted into text messages, we will also send out text notifications to the teams scheduled for that night. Learn how to sign up for these text messages! The canceled games will also be displayed in the app & online schedule. If there is a rain delay and you're already here, put on your mask, head inside, and we have plenty more room in the Duckpin area and front portion of the building.

---
Week of July 13

1) Masks Required INSIDE Mon, July 20

Starting on Monday, July 20, masks are required inside while not seated. While we don't expect you to wear a mask to eat, drink, or play outside, here's when to wear a mask:
entering the building

waiting in line (even if socially distanced)

walking inside (to the bathrooms!)
While outside, masks are not required; however, are strongly encouraged, especially where social distancing is difficult to maintain.
When you are seated to eat and drink or play on a court, masks can be removed.
If you arrive and forgot your mask, we will have disposable masks available for purchase.
2) Social Distancing STILL Expected

While masks are required, we are still expecting social distancing OUTSIDE and inside. The best way to social distance is to stick with your crew and sit down at your table.

3) Bump. Set. Spike. COVID-19 Edition
For our first tournament (Summerfest on Sat, July 18), we need to remember: BUMP, SET, SPIKE COVID-19 Edition, as illustrated by the Winnebago County Health Department (for the Waupaca tournament). Don't BUMP into others. SET your team up with plenty of hand sanitizer. Prevent a SPIKE in cases. Wear a mask or face covering.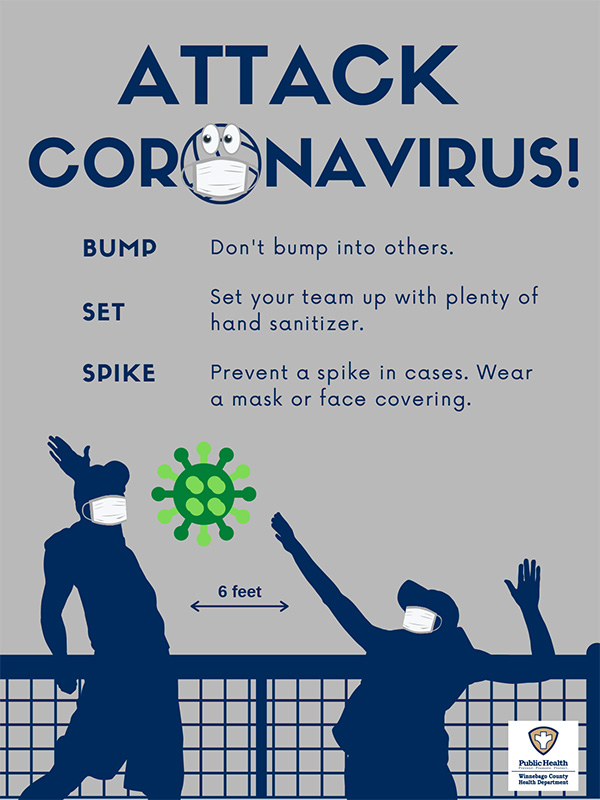 ---

Week of July 6th
1) Find Your Seat
Before or after you're done playing, find a table and stay seated to help with social distancing. Our tables have been measured out to follow the 6-foot distance guidelines. If the weather is bad or most of the tables are taken, there is more socially distanced seating in the Duckpin area and other patio.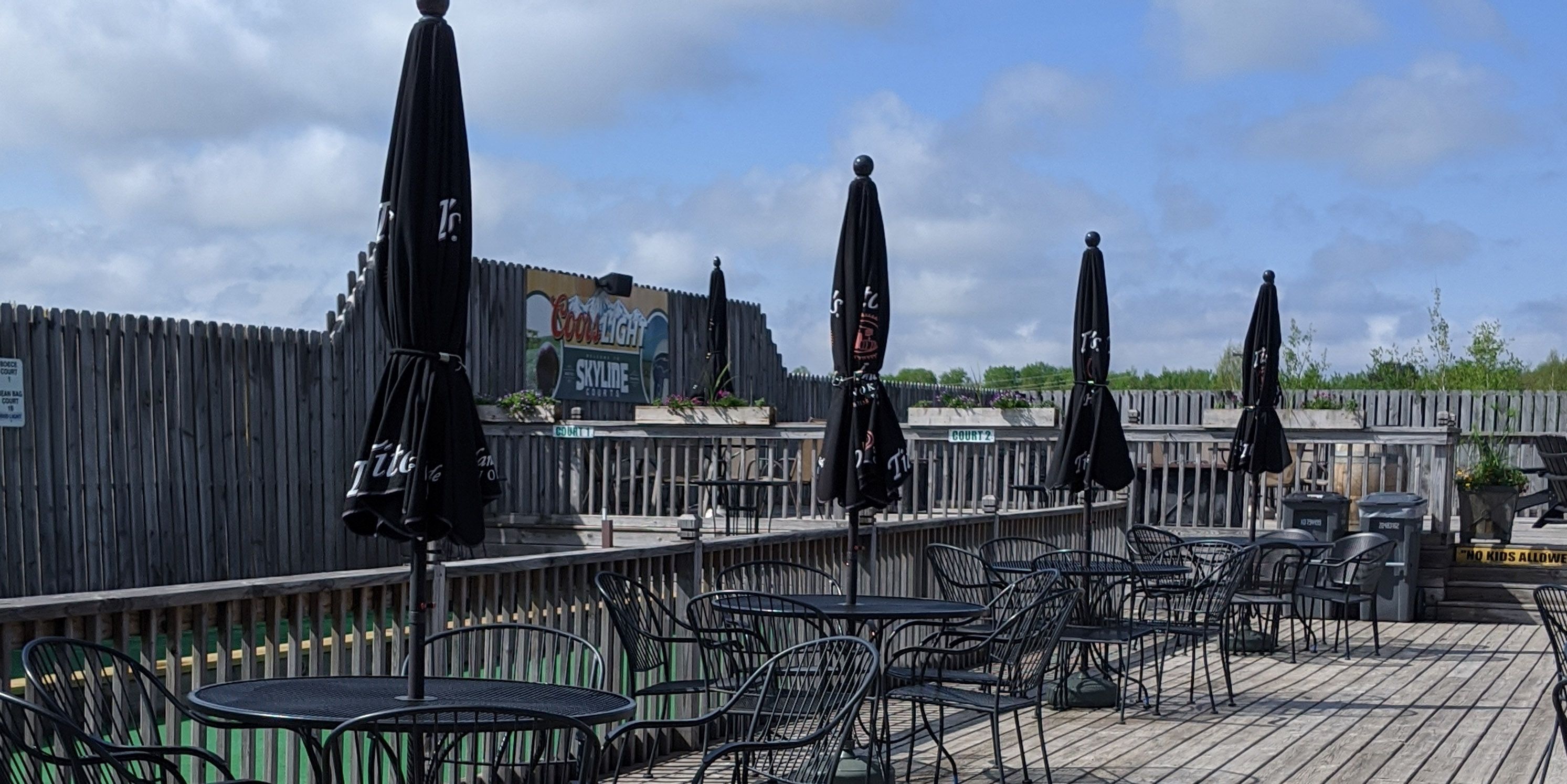 2) No Fevers Allowed
If you are starting to feel sick or have any symptoms of COVID-19, please stay home. Find a sub for 1-2 weeks so everyone else can keep playing (and not get sick too). Note: if your entire team can't make it, call Will (218-520-0538) so he can let your opponent know ahead of time.
3) Mask Info
*Update: starting Monday, July 20, masks are required inside while not seated. All our staff wears masks. When you are inside in a line (at the entrance or the bar), we recommend wearing masks, especially if social distancing is temporarily compromised. Obviously, when you are seated outside to eat & drink (and socially distanced), you don't need to wear a mask. Our servers are outside so you can avoid lines at the bar too. Please continue social distancing.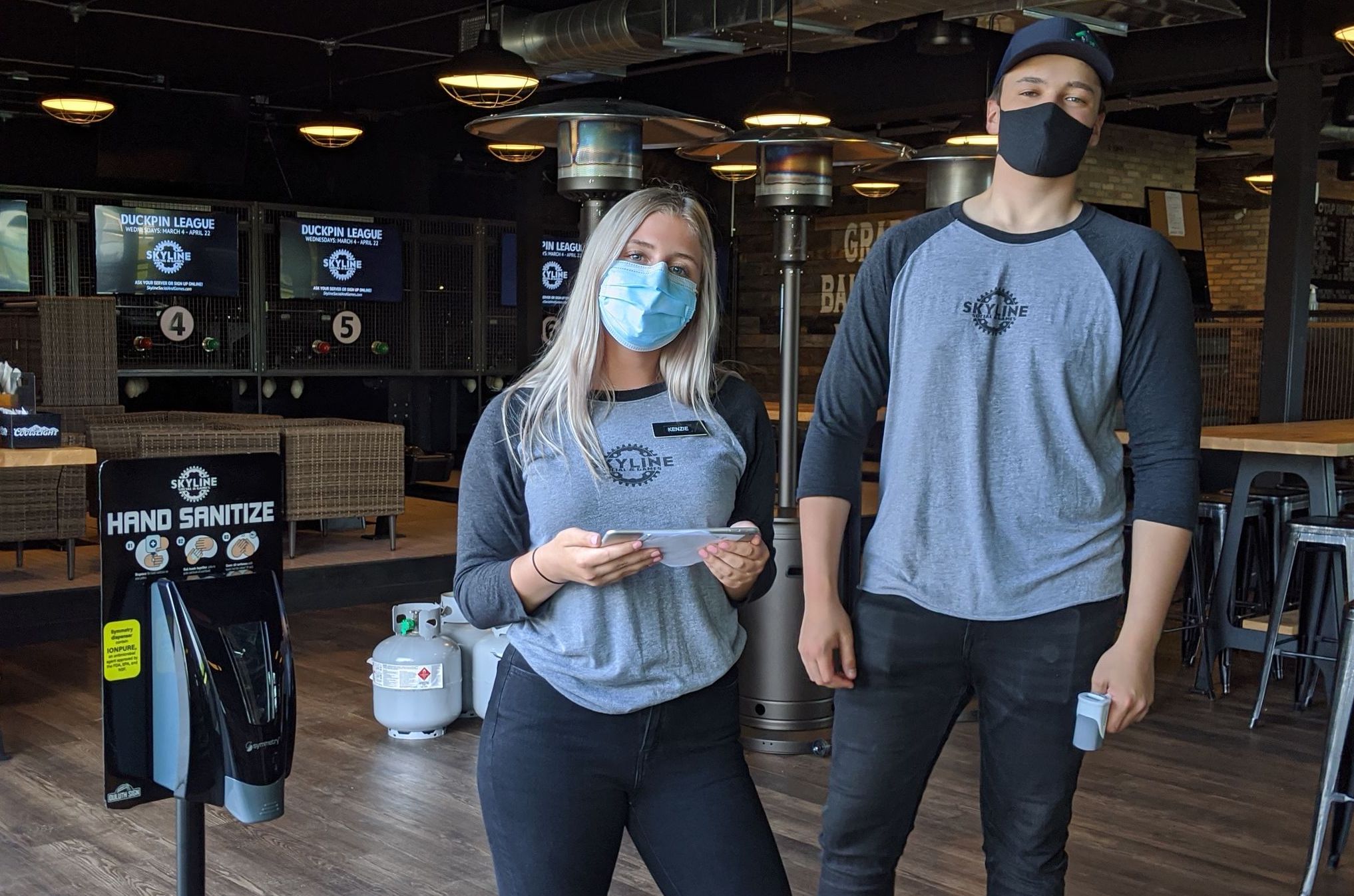 As always, share any feedback or ideas so we can improve. This is all new territory for everyone and we're learning! Reach out to our

Skyline Social and Games

' page, call Will at 218-520-0538, or email him at

wvogel@skylinesocialandgames.com

. Stay tuned for more next week!